Problem Solved!
This page is small and needs more information. To solve the problem, all you have to do it fill in more things. Please keep everything accurate.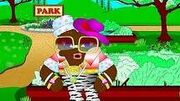 Characters
Edit
This is the first episode where Tux Dog is captured.

This is also the first episode where Alfe, Roba, and Horace have to save him.
However, everything was part of his "plan."

This episode was uploaded onto Facebook to celebrate a new Badcat-themed app.
Ad blocker interference detected!
Wikia is a free-to-use site that makes money from advertising. We have a modified experience for viewers using ad blockers

Wikia is not accessible if you've made further modifications. Remove the custom ad blocker rule(s) and the page will load as expected.