Awesome Banditz is the fourth episode of The Problem Solverz.
Characters
Edit
#76654: The Case of the Elevator Banditz that Alfe thinks are cool.
After a store was robbed of blankets by elevator banditz, Alfe goes undercover as one of them and does elevator races. Roba got taken by the elevator banditz. To get to the top before the lead bandit, Alfe feeds Roba beans, which makes him fart so much that the elevator they were in speeds up, allowing them to win.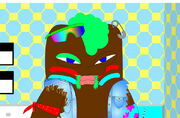 Ad blocker interference detected!
Wikia is a free-to-use site that makes money from advertising. We have a modified experience for viewers using ad blockers

Wikia is not accessible if you've made further modifications. Remove the custom ad blocker rule(s) and the page will load as expected.